Daytona Beach Dining


316 Main Street Station Restaurant & Saloon
316 Main Street
(386) 248-0085

Adobe Gilas At Ocean Walk Shoppes
250 N. Atlantic Avenue
(386) 481-1000

Aku Tiki Traders Restaurant & Lounge
2225 South Atlantic Avenue
(386) 253-8338

Angelo's Pizzq
1456 Ocean Shore Blvd.
386-441-8811

Anna's Trattoria Italian Cuisine
304 Seabreeze Blvd.
(386) 239-9624

B & B Fisheries
715 East Int'l Speedway Blvd.,
(386) 252-6542

Basil's Yogurt & More
2429 North Atlantic Blvd
(386) 672-5568

Baskin 31 Robbins Ice Cream
Daytona Beach Beachside
215 N. Atlantic Ave.
(386) 253-3131

Bennigans
890 S. Atlantic Ave
(386) 673-3691

Bernkastal Festhaus
100 N. Atlantic Ave.
(386) 255-8300

Boston Pizza
509 E. International Speedway Blvd.
386-253-7919

Brother's New York Style Pizza
723 N. Atlantic Ave
(386) 248-1886

Bubba Gump Shrimp Company & Restaurant
Ocean Walk Shoppes
250 North Atlantic Avenue
(386) 947-8433

Cafe del Mar
600 N. Atlantic Ave.
(386) 255-5471

Cafe Waterhouse
1220 N. Atlantic Avenue
(386) 257-6663

Captain Darrell's Oyster Bar & Restaurant
13 Boardwalk Avenue
(386) 255-5822

Checker's Cafe
219 South Atlantic Avenue
386-239-0010

Chicago Pizza
1000 S. Atlantic Avenue
386-252-2111

Clocktowers Restaurant at Adam's Mark Resort
100 N. Atlantic Ave.
(386) 254-8200

Cold Stone Creamery at Ocean Walk Shoppes
250 N. Atlantic Avenue
(386) 254-5111

Conch Shell Restaurant at the Beachcomer Resort
2000 N. Atlantic Avenue
(386) 252-8513

Cow Licks
2624 South Atlantic Avenue
(386) 761-1316

Cruisin' Cafe Bar and Grill
2 S. Atlantic Blvd.
(386) 253-5522

Daytona Hot Grill & Pizza House
527 North Atlantic Avenue
(386) 255-3210

Denny's Restaurant
Daytona Beach (North Beachside)
2701 North Atlantic Avenue
(386) 673-5283

Denny's Restaurant -
Daytona Beach (South Beachside)
701 South Atlantic Avenue
(386) 252-6275

Don Giovanni's Pizza & Spaghetti House
2011 N. Atlantic Ave
(386) 258-3411

Dragon Express
2655 N. Atlantic Ave.
(386) 676-0440

Eady's Grand Ice Cream
3174 South Atlantic Avenue
(386) 760-1131

Earl Street Grill
715 Earl Street
(386) 239-8781

Emilia's Italian Deli
2451 N. Atlantic Avenue
386-676-0215

Fatboy's Patio Grill
831 East International Speedway Boulevard
904.238.1414

Ferro's Restaurant
1615 South Atlantic Avenue
(386) 255-0921

Full Moon Saloon
700 Main Street
(386) 253-1944

Gateway Restaurant
219 East International Speedway Boulevard
386-252-1262

Graziano's Ristorante & Pizza
1 Boardwalk
(386) 255-9542

Green Turtle Restaurant
2301 S. Atlantic Ave. (Hawaiian Inn)
(386) 255-5411

Hannah's Restaurant at Treasure Island Resort
2025 S. Atlantic Avenue
(386) 255-8371

Harry's Outback (Behind Dirty Harry's)
705 Main Street
(386) 252-9877

Hog Heaven
37 North Atlantic Avenue
(386) 257-1212

II Bacio
631 N. Grandview Avenue
(386) 255-9822

International House of Pancakes -
Daytona Beach Beachside
2204 South Atlantic Avenue
(386) 255-9629

International House of Pancakes
Daytona Beach Beachside
427 N. Atlantic Avenue
(386) 253-8319

International House of Pancakes -
Daytona Beach Shores
3200 South Atlantic Avenue
(386) 767-4236

Ivanhoe Beach Resort
205 S. Atlantic Avenue
386-672-6711

Main Street Café
821 Main Street
(386) 257-2323

Main Street Pier & Restaurant
1200 Main Street
(386) 238-1212

Main Street Steakhouse
601 Main Street
(386) 255-2550

Mardigra's Snack Bar
12 North Ocean Avenue
(386) 253-1179

Milano of Daytona Beach Restaurant
3100 South Atlantic Avenue
(386) 767-7273

Milano's Pizza
637 North Grandview Avenue
(386) 255-4111

New Pit Stop
1114 Main Street
386-258-8737

New York Pizza The Orginal
725 East International Speedway Boulevard
(386) 257-2050

Niceley's Tavern
710 E. International Speedway Blvd.
(386) 253-1996

Ocean Deck Restaurant and Beach Club
127 S. Ocean Avenue
(386) 253-5224

Pit Stop Pub
1114 Main Street
(386) 258-8737

Quizno's Subs Daytona Beach
2407 N. Atlantic Avenue
(386) 615-6994

Red Lobster Restaurants - Daytona Beachside
2735 N. Atlantic Avenue
(386) 677-2235

Shells Restaurant -Daytona
200 S. Atlantic Avenue
(386) 258-0007

Sophie Kay's Waterfall Restaurant
3516 South Atlantic Avenue
(386) 756-4444

Spalmalli's Italian Restaurant
1010 Main Street
(386) 258-9293

Splash Bar & Grill
100 N. Atlantic Avenue
(386) 254-8200

Starlite Diner
401 North Atlantic Avenue
(386) 255-9555

Stavro's Pizza House - Seaside
2132 S. Atlantic Ave.
(386) 253-3405

Steamer's Oyster and Ale House
2408 South Atlantic Avenue
(386) 252-2055

Steve's Famous Diner - Beachside
1620 South Atlantic Avenue
(386) 252-9444

Teauila's Hawaii Dinner Theater
2301 S. Atlantic Avenue
(306) 255-5411 ext.186

Traders Restaurant at The Aku Tiki Inn
2225 South Atlantic Avenue
(386) 253-8338

Wiseguys Watering Hole
415 Main Street
386-253-8251

Wreck Riverfront Bar & Grill
115 Main Street
(386) 226-3000

New Smyrna Beach Dining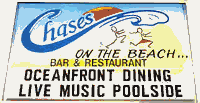 Chases on the Beach
3401 South Atlantic Avenue - New Smyrna Beach
Phone: (386) 423-8787
American - Moderately Priced
Enjoy the calm ocean breezes and fantastic view from our deck overlooking the ocean while dining on fresh Florida seafood and luscious tropical drinks. Listen to live music while laying around the pool and sipping on one of our famous "Loaded Lemonades". Let the kids play in our playground on the beach while you relax at our tiki bar or have lunch on the patio deck.




Gilly's Pub
1889 State Road 44 , New Smyrna Beach, Florida
Phone:(386) 428-6523
Welcome to the Gilly's PUB 44 Where everyone is treated like a local! Open daily for lunch and dinner. No reservations are required and there is no cover charge. Gilly's features 3 full-service liquor bars including the Tiki Bar outside. We also have banquet facilities in our new Banquet Room. Gilly's is also your Sports Bar Headquarters! We have 44 T.V.s tuned to ALL your favorite sports channels from three satellites! Never miss another game while you enjoy our full food and drinks menu!


Aggie's Restaurant-New Smyrna
409 Mary Avenue - New Smyrna Beach
American - Inexpensive


Beef O'Brady's
1966 State Road 44 - New Smyrna Beach
American - Inexpensive


Blackbeard's Inn
701 North Dixie Fwy - New Smyrna Beach
American - Moderately Priced


Breaker's
518 Flagler Avenue - New Smyrna Beach
American - Affordable


Chap's Steakhouse and Saloon
3170 North US Highway 1 - New Smyrna Beach
American - Moderately Priced


China Restaurant
755 East 3rd Avenue - New Smyrna Beach
Chinese


Clancy's Cantina
747 East 3rd Avenue - New Smyrna Beach
Mexican - Affordable


Clancy's East Coast Grill
1443 South Dixie Fwy - New Smyrna Beach
Italian - Moderately Priced


Denny's
1830 State Road 44 - New Smyrna Beach
Family American - Affordable


Gary's Chicken and Fish
1112 Canal Street - New Smyrna Beach
Quick Service American


JB's Fish Camp and Seafood
859 Pompano Avenue - New Smyrna Beach
American - Moderately Priced


Merk's Bar and Grill
193 North Causeway - New Smyrna Beach
American - Inexpensive


Norwood's Seafood
400 East 2nd Avenue - New Smyrna Beach
American - Moderately Priced


Ocean's Seafood
601 East 3rd Avenue - New Smyrna Beach
American - Affordable


Patio Restaurant and Caterers
626 North Dixie Fwy - New Smyrna Beach
Upscale Italian, Variety - Moderately Priced


Peanut's Restaurant and Lounge
421 Flagler Avenue - New Smyrna Beach
American - Affordable


Pub 44
1889 State Road 44 - New Smyrna Beach
Bar Food - Inexpensive


Quincy's Family Steakhouse
722 South Dixie Fwy - New Smyrna Beach
Family American


Riverview Charlies Seafood
101 Flagler Avenue - New Smyrna Beach
Upscale American - Expensive


Sea Harvest Seafood
107 North Riverside Drive - New Smyrna Beach
American - Inexpensive


Skyline Restaurant and Piano Lounge
2004 North Dixie Fwy - New Smyrna Beach



Touch of Italy Restaurant
4198 South Atlantic Avenue - New Smyrna Beach
Italian - Affordable


Vincenzo's Italian Restaurant
410 Flagler Avenue - New Smyrna Beach
Italian - Affordable